Main Content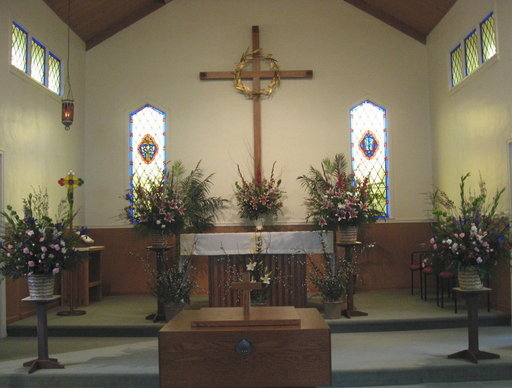 Introducing Our New Pastor
We welcome Rev. Bill Northend, who will be installed as Pastor in a special service at 3:00 p.m. on Sunday, September 7, 2014 at the church. Northend's installation follows the retirement of Pastor Thomas Windsor in January and the service of Interim Pastor Ted Zimmerman. Faith Lutheran Church is a congregation of caring Christians sharing God's love with each other and the people of the community.
"We take an active role in our community through both leadership and service," says Cheryl Casciani, who heads the church's Call Committee. "Pastor Bill shares our heart for reaching people in need and can help us build on our successes."
A Bay Area native and graduate of University of the Pacific, Pastor Northend answers the call from Clarkston, MI, where he most recently served as full-time Mission Pastor for The Gathering Place, a missionary church under the auspices of Faith Lutheran Church of Grand Blanc, MI. After a 20-year career in the Bay Area working for the Boy Scouts of America and later as a stockbroker, Northend changed direction, earning a Masters of Divinity degree at Concordia Seminary in St. Louis, MO. He and his wife Mary, a preschool teacher and director, are looking forward to settling in the Sonoma Valley. They'll also be closer to their two daughters who live in California with their families.
"We're enthusiastic about receiving the call and eager to be here," says Northend. "In Michigan, Mary and I were working to create a mission where God is at work speaking to his people, and where the people are being equipped to speak his Word to others. With God's blessing, we'll continue that mission here in Sonoma."
Sunday services at Faith Lutheran Church include Adult Bible Study at 8:30 a.m., followed at 10 a.m. by Worship service, children's Sunday school, and Youth Fellowship. Faith Lutheran Church is located at 19355 Arnold Drive (near Petaluma Ave.) in Sonoma.
---
Welcome to
Faith Lutheran Church
of Sonoma Valley
---
Greetings! Welcome to the website of Faith Lutheran Church of Sonoma Valley California, where Jesus Christ is Lord and we are His people of faith.
Our charming facilities are located right in the midst of the famous author Jack London's "Valley of the Moon." Sonoma Valley is one of the most beautiful regions in Northern California with rolling hills frequently adorned with chartreuse and gold. Vineyards are present everywhere! They stand in silent reminder of our Lord Jesus telling us "I am the vine, you are the branches." (John 15:1) We are invited to "taste and see that the Lord is good!" (Psalm 34:8)
The earliest Christians prayed the following prayer, so appropriate for all of us who live in wine country. "As this wine was once many grapes, and as this bread was once scattered in the fields and as both are here gathered into one, so gather your church from every city and suburb, village and house, and make of us one living, Holy church to serve You and carry out Your will."
As you travel this website, you will see a congregation in love with God and in love with His people everywhere. We at Faith are continually growing in our love of worship, our commitment to the study and understanding of the Scriptures, to the witness of God's love for everyone, to the service of all people in need, to the fellowship of the saints and to the stewardship of God's gifts.
If you are new to our area and are looking for a warm Christian welcome with life-giving worship and service, we invite you to join us on Sundays for:
Adult Bible class at 8:30AM in Goehring Hall
Our Sunday celebration of Word and Sacrament, with children's Sunday school, at 10:00AM
A Faith family fellowship time for members, guests, and friends occurs in Goehring Hall immediately after the Sunday Morning Celebration of Worship
Faith's Youth Fellowship meets in the Youth Facility at 10:40-11:30 AM
Let the vineyards be fruitful, Lord, and fill to the brim our cup of blessing. Gather a harvest from the seeds that were sown, that we may be fed with the bread of life. Gather the hopes and dreams of all; unite them with the prayers we offer. Grace our table with Your presence, and give us a foretaste of the feast to come. Amen!

a96